I'm not a drastically feminine creature when it comes to dressing. I think I've worn pink once in the last 4 years. There's one item of clothing, though, that I can't help but be over-the-top femme in, when it comes to preference. Jackets. Coats. Outerwear, or what have you. I go insane for girly fabrics, ruffles, structurally feminine components and light colors.
Right now, I'm a little bit obsessed with ruffles – I KNOW. It doesn't get much girlier (though you'll never catch me with a fabric rosette on anything I own. Forget it. Never gonna happen, I know my limits). I fell in love with a white, wool coat with a stand-up, ruffled collar (to which boyfriend said, "Uhhh…") at the DKNY outlet (that I also can't find online – boo!) and have been hypnotized ever since.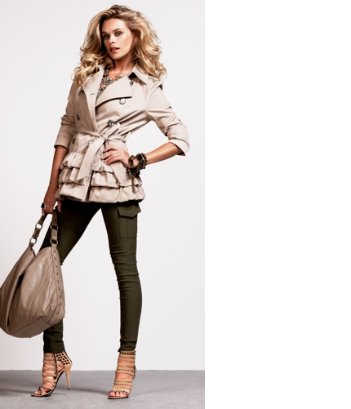 Express Ruffle-Bottom Belted Trench $98
This is a little too dull for me, but I could see myself wearing it, regardless. I like the ruffles up towards the neck as opposed to the bottom of the coat.

Chilli Pepper Bubble Hem Belted Mac $50.55 (was $109.53)
I like this one alright, but a) I have a coat that's very similar to it in a gorgeous eggplant color and b) I hate the sleeves. So much. I hate them. Milkmaid, y'all.

Laundry by Shelli Segal Ruffle Trench $60 (was $130)
OKAY SO THERE ARE NO RUFFLES HERE BUT RUFFLE IS IN THE NAME OF THE COAT AND LOOK AT IT SO GOOD.

Tahari "Eve" Ruffle Trench $148
I know, I know, it's a little pricey but that collar, that color and the rufflegasm = maybe worth it? I've got a couple thing by Tahari and the quality is tops, so I'm tempted.
So there's still no pink still, but adding one of these over rolled up jeans and a graphic tee (like yesterday's picks) sounds like a beautifully balanced look, to me.